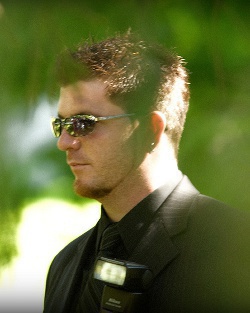 About Galis

John Galiszewski, Owner:

Ever since I was 15 years old, I knew that he wanted to create a photography and video company!

So, after gathering as much knowledge as I could in high school and college, I began studying and training with various photographers and attending any seminars I could find. Finally in 1990 I opened my own studio in Union, NJ. For 7 years we grew and gained partners and turned my company into one of the most respected studios in North Jersey.

Then in January 1, 1997, my brother Paul and I felt that not everyone shared in my strong business values. I needed to reduce the size of the studio and create a more personal atmosphere for my clients. So I left the old company and started Galis Photography and Video, Inc. Since then I have had the great opportunity to developed a large following of satisfied and devoted clients (and friends).





In 2003 I renamed the company to John Galis, LLC, Photography and Video, and Paul has ventured on into the real estate market. All of our photography and video is now digital, creating even more speed and accuracy in the delivery of the final products.

Thanks to the current staff, the company has now reached a customer satisfaction rating of 98%. This has prompted us to create our VIP (Very Important Patron) Club. Once you've had photographs or video created by John Galis, LLC, Photography and Video, you automatically become a member of our "Family". You will receive periodical gifts and newsletters from us, as well as special promotions that are only offered to our VIP's. Call us today to arrange a time to come in and chat about your photography or video needs. Or just to chat about life

MATTHEW AAMLAND, Production Manager:

Born a true lover of Fine Arts, Matthew's life and work has always consisted of the creative. From childhood to present day his love for drawing and painting has evolved into a passion for photography. He is a graduate of Montclair State University with a BA in Studio Photography.

For over 10 years Matthew has been an integral part of the Galis Photography team. He is head of the Art Department and a Staff Photographer here at our studio. His graphic design and artistic talents have helped develop and maintain our high quality Galis standard.

When he isn't shooting weddings, he can be found behind the scenes here at our studio processing your imagery and preparing your albums for a lifetime of enjoyment.
Matthew is currently planning his own wedding with the love of his life, Leslie, and their beautiful baby daughter Ofelia.


Galis Photography and Video
19 No. County Line Rd
Jackson, NJ 08527
(732) 534-4011
Info@GalisPV.com